Discounted Rates & Last Minute Availability

Stay up to date with what's happening on Nantucket by signing up for our seasonal weekly newsletter. You will also be the first to know about any last minute availability at our hotels, B&B's and guest houses, as well as house and cottage rentals.

We're also on Facebook and Twitter!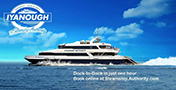 Discounted Steamship High Speed Ferry Tickets
April 1, 2017 - January 4, 2018
The M/V Iyanough will be undergoing repairs and will be out of service for the next 3 to 4 weeks. The Steamship Authority is attempting to secure a long term vessel charter to operate in place of the M/V Iyanoughs during this repair period. The Steamship Authority has chartered a vessel to operate a modified high speed ferry schedule for Nantucket until June 29, 2017. These trips will have a lower passenger capacity than normal and reservations are strongly suggested.
We are pleased to offer our customers discounted Steamship Authority fast ferry tickets aboard the IYANOUGH when booking lodging through us. Travel time to and from Nantucket in just 1 hour!
Adult tickets for just $50 round trip with each lodging reservation.* *To receive this special promotion you must book your lodging reservations through Nantucket Accommodations. Tickets must be purchased with the confirmation number provided at the time of booking.